The Growing Demand for Nurse Educators and How to Become One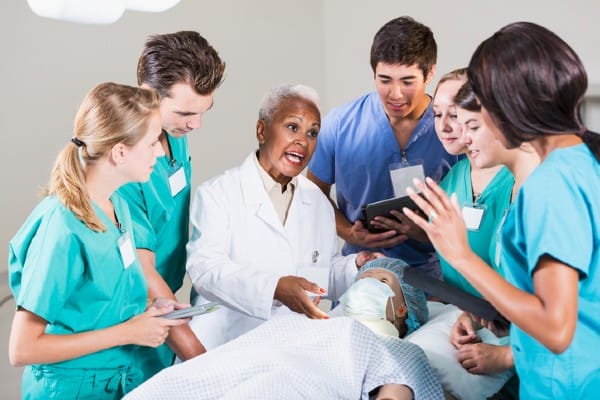 Published: January 3, 2022

The aging of the American population and the ongoing shortage of qualified nurses combine to make the nurse education field a hotbed of growth. According to the U.S. Department of Labor, employment in the nurse educator role is projected to grow by 22% from 2020 to 2030, much faster than average.
We talked with Cari Furst, Clinical/Professional Instructor, College of Nursing, Purdue University Northwest, to find out more about the growing demand and how to become a nurse educator.
Why Is There a Nursing Shortage?
The U.S. Health Resources and Services Administration projects that by 2030, seven states will have a shortage of registered nurses, and 33 states will experience a shortage of licensed practical/vocational nurses.
The U.S. Bureau of Labor Statistics projects employment of registered nurses will grow 9% from 2020 to 2030, faster than average and up 2% from last year. The demand for nurse anesthetists, nurse midwives, and nurse practitioners is also significant; the BLS projects that overall employment of these roles is projected to grow 45% from 2020 to 2030, much faster than the average for all occupations.
Many factors contribute to this growing trend, including the following:
An aging population
Growing rates of chronic conditions
Insurance reform
Nurses nearing retirement
A diminished pipeline of new nurses
By 2050, it's estimated that 22% of the U.S. population will be over age 65. Furst says the number of physicians won't be able to keep up with this growth.
"That's opened the door for advanced practice nursing professionals to help with that demand, which creates a need to replace the ones that are no longer at the bedside," Furst says. "There's an increased demand for nurses. And you need the educators to train those nurses."
"It's a Catch-22 because we want to encourage people to be educators, but that pulls nurses away from bedsides."
More Nursing Educators Are Needed
Thousands of qualified nursing school applicants are turned away each year because of limited space related to the lack of educators, according to the American Association of Colleges of Nursing.
Furst says teaching is largely a secondary path for nurses, mainly for seasoned nurses instead of nurses earlier in their career.
"That impacts job projections because we have nursing faculty getting closer to retirement age, or have passed actual retirement age but aren't retiring because there aren't people to really take their place," Furst says.
What Does a Nurse Educator Do?
The typical nurse educator has a lot on their plate. The usual job duties include the following:
Attend faculty meetings
Contribute to the academic community
Develop lesson plans
Document outcomes of educational processes
Engage in scholarly work
Evaluate educational programs
Maintain clinical competence
Mentor students with academic and career issues
Oversee students' clinical practice
Promote discussions among students
Serve on college-based committees
Speak at nursing conferences
Teach courses
Write grant proposals
Furst says there are two "classrooms" for the nurse educator: the school and the medical facility.
"In the traditional academic education setting, there are classroom roles, lecture development, curriculum evaluation, test item writing, and more," she says. "They lead more hands-on training experiences and make sure students can translate book knowledge into the actual practice setting."
"Hospital-based educators work within health care systems to educate current nurses or ancillary staff. They make sure the practitioners have the knowledge and skills to safely care for the patients in those areas."
Becoming a Nurse Educator
1. Get Your RN
One route to becoming a registered nurse is by getting an Associate of Science in Nursing degree. This degree is for students who have no health care experience and for those already working in health care as an EMT or paramedic. Earning an ASN usually takes 2 years.
After earning an ASN, you may be prepared to apply to take the national licensure examination for registered nurses (NCLEX-RN).
2. Get Involved
As you work in your new career, volunteer and talk to others to make sure this is a good direction for you. You could serve on a committee in an educator role and realize you love it. Talk to nurse educators to see their thoughts on the profession. Get a feel for the day-to-day duties of a nurse educator
3. Continue Your Nursing Education
After obtaining an ASN, nurses who seek to teach will need to complete a Bachelor of Science in Nursing (BSN) degree, and then will likely need to pursue a graduate degree.
"With the increase in demand, some schools are allowing nurse educators to come in with a bachelor's degree," Furst says, "with the caveat that they will finish their master's within a certain period of time."
NursingOutlook.org predicts that approximately 66% of RNs will have a BSN or higher by 2025. With up to 2 years of study in an RN-to-BSN program, you can take the next step toward teaching.
After you earn a BSN, you almost always must earn your Master's of Science in Nursing degree next. Look for a school that has a nurse educator concentration or track, as Purdue Northwest does.
"If you're going to teach graduate students, you need a terminal degree," Furst says. "It's said you need at least one degree higher than what you're teaching."
4. Obtain Nurse Practitioner State Licensure
According to the National Council of State Boards of Nursing, licensing requirements vary by state, and they typically require candidates to meet certain educational and experience requirements. They also must hold an active, current RN license.
Since 2000, the Nurse Licensure Compact (NLC) has made it easier for nurses to obtain one certification for practicing in multiple states. As of 2021, 34 states will allow nurses with this credential to practice.
5. Obtain Certification (If You Wish)
Certification is an additional mark of professionalism. With it, nurse educators can demonstrate their expertise in their role, to students, peers and the academic and health care communities.
To this end, you may consider certification with the National League for Nursing as an academic nurse educator (CNE) or academic clinical nurse educator (CNEcl).
"Many employers indicate a preference for these certifications, and even require them, in job descriptions," Furst says.
How to Become a Nurse Educator in Illinois, Indiana and Wisconsin
Becoming a nurse educator begins with getting your RN license, same as step #1 above. Let's look at licensing for RNs in Illinois, Indiana and Wisconsin:
Illinois: Licensing for RNs is overseen by the Illinois Department of Financial and Professional Regulation. Each candidate must provide transcripts and fingerprints and pay a $91 fee.
During even-numbered years, nurses must renew their licenses and complete continuing education hours through courses approved by the American Nurses Credentialing Center or the Illinois agency.
Indiana: Licensing for nurses is managed by the Indiana Professional Licensing Agency. Candidates for initial RN licensure by examination must submit transcripts, a small photograph, a $50 application fee, and an explanation for any criminal history. Prospects must also arrange for their nursing schools to send degree verification to the agency.
Indiana RN licenses expire on October 31 of odd-numbered years. Renewals can be made online or by mail.
Indiana is also a Nurse Licensure Compact state.
Wisconsin: The state Department of Safety and Professional Services awards multistate RN licenses to qualifying candidates who either reside in Wisconsin or intend to move there.
Nurses in Wisconsin must renew their licenses in even-numbered years by the last day of February. Continuing education is not required for renewal, but candidates must reaffirm their residency.
Wisconsin is also a Nurse Licensure Compact state.
Then, move through steps 2–5, above. For more information, here are additional resources by state:
Find out More About Becoming a Nurse Educator
"An intelligent person with a wealth of knowledge who wants to help train the next generation of nurses can be a great educator," Furst says. "I personally love it. I always have. It's a very fulfilling profession."
Purdue Northwest offers an online Master of Science in Nursing with a nurse educator concentration. Busy working nurses can continue to work and take care of other obligations while earning an MSN online. Begin your journey today.