25 Nursing Blogs and Resources for New Nurses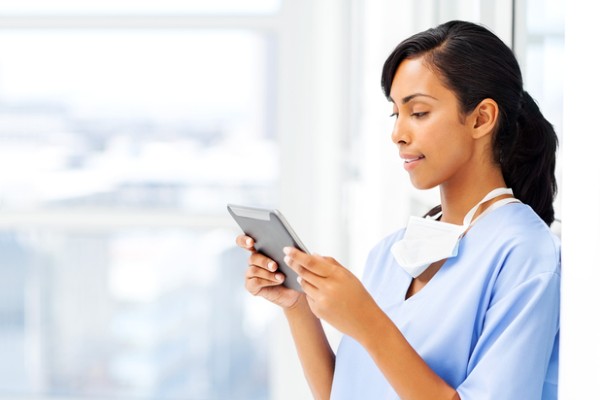 Published: April 5, 2022
Amid a nationwide nursing shortage, the future looks bright for new registered nurses. More nurses are needed, and the job outlook is better than average for all jobs. A job increase of 9% is expected from 2020–2030, according to the U.S. Bureau of Labor Statistics.
New nurses have a wide range of resources available to them as they begin their careers. Here are 25 of the best nursing blogs, resources and nursing websites to help.
1. Agency for Healthcare Research and Quality
https://www.ahrq.gov/prevention/index.html
This federal agency's site offers articles, research, resources, and other tools that can be of help to new nurses. Some topics include chronic care, clinical guidelines and recommendations, clinicians and providers and curriculum tools.
2. AJN Off the Charts (Presented by the American Journal of Nursing)
This blog by the American Journal of Nursing features articles tackling such topics as nursing, public health, patients, technology and ethics. Recent articles covered critical warning signs in mental illness and what to know about COVID-19 and SARS-CoV-2 variants.
3. ANA Scope and Standards of Practice
https://www.nursingworld.org/ana/about-ana/standards/
This site from the American Nurses Association is a repository of professional standards for nurses. Included are the Code of Ethics for Nurses, ANA Nursing Standards and ANA Principles for Nursing Practice, among others.
4. Ask Nurse Alice
https://asknursealice.com/posts/
Alice Benjamin is a board-certified Clinical Nurse Specialist and Family Nurse Practitioner who has more than 23 years of experience in cardiovascular and critical care. She is a contributor to television shows, has a podcast, and writes about various health topics.
5. DailyNurse
https://dailynurse.com/blog-page/
Daily Nurse is a nursing news, reviews and career site. In its blog, it features current issues in nursing and provides industry surveys, reports and professional events. Recent articles discussed vaccination mandates for hospital staff and the nursing staff crisis.
6. DiversityNursing
http://blog.diversitynursing.com/blog
DiversityNursing calls itself a niche website for nurses of all levels of experience. It offers blog posts and resources for nurses "regardless of age, race, gender, religion, education, national origin, sexual orientation, disability or physical characteristics."
7. EveryNurse
EveryNurse features "news, wellness guides, advice, and inspirational content, written by dozens of experienced nurse writers and seasoned healthcare professionals." Topics covered include clinical practice, professional development and health and wellness.
8. FreshRN
FreshRN provides nurses with resources to begin their career. It offers a blog, along with a podcast, courses and books. Recent articles include how to communicate with patients and how nurses can transform health care.
9. Gypsy Nurse
https://www.thegypsynurse.com/articles/
This site provides travel nurses with tools, information and connection. The blog has featured articles on securing housing, packing tips, staying healthy on the road, and why hospitals are hiring traveling nurses.
10. Hartford Institute for Geriatric Nursing
This site provides articles, tools, e-learning modules and other resources for geriatric nurses. Recent articles include series on general assessments, specialty practices, dementia and improving the quality of patient life.
11. Healthy Nurse Healthy Nation
https://www.healthynursehealthynation.org/
This organization has a mission to improve the health of the nation's registered nurses. Their focus is on five key points, according to its website: activity, sleep, nutrition, quality of life and safety. This site offers support, advice and connection for nurses.
12. Healthy People 2030
https://health.gov/healthypeople
Healthy People 2030 is an initiative from the U.S. Department of Health and Human Services to set up measurable public health objectives and to provide tools to track progress toward achieving them. Nurses will have a role in meeting these objectives.
13. Healthy Workforce Institute
https://healthyworkforceinstitute.com/hwi-blog/
This organization addresses what it calls disruptive behavior in health care, with a focus on ending workplace bullying and incivility. Among its goals is to help new nurses feel welcomed and supported in their new health care workplace.
14. Institute for Healthcare Improvement
http://www.ihi.org/resources/Pages/Changes/DevelopaCultureofSafety.aspx
This organization focuses on creating a better workplace in the health care environment. It offers research, tools and ideas to change improper workplace behaviors and to foster a culture of safety for nurses and all health care workers.
15. JBI
JBI, based in Australia, develops and delivers evidence-based information, software, education and training in improving health care practice and health outcomes. JBI offers short courses in the synthesis and employment of new research useful to health care.
16. Minority Nurse
https://minoritynurse.com/blog-page/
Minority Nurse is a jobs, support and information resource for nurses of all ethnicities, races and orientations. Recent blog posts have covered workforce cross-training, balancing nursing and motherhood, and preparing for promotion.
17. Nurse Focus (Presented by the American Nurses Association)
This blog from the American Nurses Association features articles dealing with such subjects as career advice, leadership and management, and individual development. Nurse Focus also offers other resources and a job center.
18. Nurse Licensure Compact
https://www.ncsbn.org/nurse-licensure-compact.htm
This site provides information about nurse licenses and the Nurse Licensure Compact, which allows nurses to practice in a number of states with one license. This page is hosted by the National Council of State Boards of Nursing.
19. NurseJournal
https://nursejournal.org/resources/
NurseJournal has a variety of articles, interviews and advice columns for nurses. Recent articles cover cultural competence in nursing, myths about nurse practitioners, and nursing jobs you can do from home.
20. Nurse.org
Nurse.org publishes articles and guides to help nurses with their careers and lives. Recent articles have focused on non-bedside nursing jobs, how to become an aesthetic or cosmetic nurse, and the highest-paying nursing jobs.
21. NursingCenter
https://www.nursingcenter.com/ncblog
This blog provides articles about continuing education, patient safety, leadership and other topics for nurses. Some articles recently discussed making sure new nursing grads are prepared for practice and how aromatherapy can be used in a hospital setting.
22. Nursology
Nursology is a repository for resources about nursing conceptual models, theories, philosophies, and associated methodologies, according to the website. The site provides links to books, organizations, videos, journals and other resources for nurses.
23. Straight A Nursing
https://www.straightanursingstudent.com/blog/
This is a new nurse and nursing student blog, with additional resources. It has guides, tutorials, podcasts, and courses for nurses to achieve success. Recent topics include mental health, pediatrics, pharmacology, fundamentals and other tips and advice.
24. The Nursing Site
The Nursing Site is maintained by Kathy Quan, a longtime RN and author of "The Everything New Nurse Book." The blog offers articles on such topics as compassion fatigue, how to survive your first year as a nurse, and other personal musings.
25. TravelingNursing
https://www.travelnursing.org/#step-1
The nursing shortage has created an opportunity for nurses to take their expertise on the road. Traveling nurses can work and explore the country at the same time, helping dispense health care in underserved areas. This site helps you get started.
Learn More About Nursing Programs
Purdue University Northwest serves students in Indiana, Illinois and Wisconsin with a world-class online education. Find out more about the nursing programs at Purdue University Northwest.