How to Become a Nurse Executive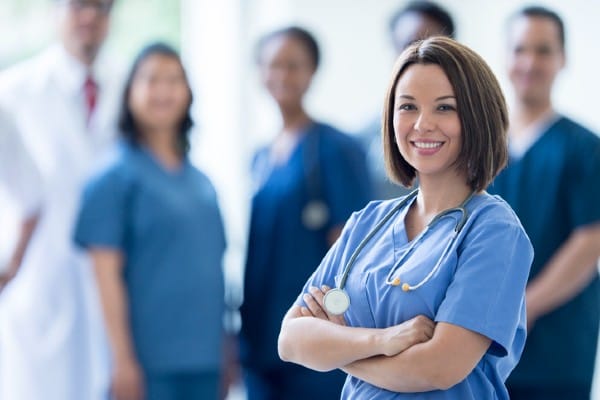 Published: January 18, 2022
Nurse executives set the vision and strategy and lead teams within nursing environments, including hospitals and extended-care facilities. If you're interested in becoming a leader in the nursing field, you might be interested in this in-demand leadership position.
According to the U.S. Bureau of Labor Statistics, employment of medical and health services managers is projected to grow 32% from 2020 to 2030, much faster than the average for all occupations. There are no specific BLS growth figures for nurse executive jobs, but growth is undeniable.
We spoke with Patti Ludwig-Beymer, Ph.D., R.N., CTN-A, NEA-BC, CPPS, FAAN and College of Nursing Associate Professor at Purdue University Northwest, to find out more about this growth, what nurse executives do and how to become one.
Aging Population Drives Growth for Nurse Executives
There's a great demand for health care services today and in the future, mainly due to an aging population. According to the BLS, jobs in health care are projected to grow 16% between 2020 and 2030, which is much faster than average for all occupations. Employment in this field is expected to increase more than any other occupational group.
"We know we have an aging population, so we have people who need more health care," says Ludwig-Beymer. "We have increased chronic illness in the United States. The Affordable Care Act brings more people to the table in terms of having resources or having access to health care so that they're not just dependent on emergency department care. All of those factors contribute to the increased need for nurse executives."
Ludwig-Beymer notes health care leaders are needed in a variety of settings, including the following:
Hospitals
Health systems
Extended-care facilities
Community health organizations
Medical practices that employ both physicians and advanced practice registered nurses
Anywhere health care is provided, there may be a need for advanced leaders like nurse executives to guide health care service quality, develop departmental goals and procedures, and manage teams and operations.
Nurse executives may also serve as consultants, working for a variety of health care organizations to improve their operations. Some nurse executives pursue roles in education, leading teams of nursing faculty at colleges and universities.
What Does a Nurse Executive Do?
What is a nurse executive, exactly? In a health care setting, someone in a nurse executive leadership role works on planning, coordinating and implementing health care services. Nurse executive responsibilities may span throughout various areas:
Policy development
Financial management
Organization building
Nursing informatics
Evidence-based practice
Systems management
Human resources management
"A nurse executive sets the vision for the practice of patient care so that the delivery is safe, timely, efficient, equitable and patient-centered," Ludwig-Beymer says.
The main duties of a nurse executive include the following:
1. Strategic Planning
Strategic planning involves analyzing a health care organization's operations and performance, designing patient care based on patient needs, and understanding the needs of the organization and creating health care and nursing budgets to achieve specific objectives. Nurse executives coordinate how patients will receive appropriate care, which also includes structuring and hiring teams.
Nurse executives collaborate with a variety of health care professionals, including nurses as well as other providers who contribute to patient care.
"As a nurse executive, I worked closely with physicians, pharmacists and radiology and lab professionals to provide seamless care," Ludwig-Beymer says.
For nursing professionals who enjoy using analytical, interpersonal and communication skills, a nurse executive role frequently puts these skills into practice.
2. Implementation
To successfully implement health care strategy, nurse executives must collaborate with key stakeholders and governing boards to ensure operations meet current health care laws and policies.
"Nurse executives need to have a really good understanding of the laws and local policies that govern health care," Ludwig-Beymer says. "They need to stay aware of current events and upcoming issues in health care."
Nurse executives typically must also provide reports on their health care operations and receive input from stakeholders on how to optimize their organization. There's always something new to learn as a nurse executive. A detail-oriented approach benefits those in this position.
3. Supervision
Another key responsibility of nurse executives is supervising people and operations. Nurse executives lead teams of health care professionals related to nursing. They may recruit, train and supervise staff members in nursing, including both medical professionals and administrators who support nursing operations.
Nurse executive responsibilities also extend beyond actual health care being provided. They must be business-minded to ensure the success of their organization.
"Nurse executives are always looking at finances to make sure overall efficiency is there, to drive down costs and improve quality," Ludwig-Beymer says. "Anything related to human resources would also fall under the purview of the nurse executive. That includes staff scheduling, hiring, discipline, constructive feedback, staff development and salaries."
The Steps to Becoming a Nurse Executive
1. Get Your RN
The journey to become a nurse executive begins with becoming a registered nurse (RN). Each state will have specific requirements, which will include education and testing.
You'll have to pass the National Council Licensure Examination (NCLEX®) to hold an active and current RN license. This requires submitting an application for licensure to the nursing regulatory body where you wish to be licensed/registered. Once you're eligible, you can take the NCLEX.
2. Volunteer
Ludwig-Beymer encourages nurses who aspire to become nurse executives to volunteer to be involved in activities within their unit, whether it's in a hospital or an outpatient setting. For example, a nurse can serve as a preceptor to other staff, to other nurses and to new nurses as they come on board.
An aspiring nurse executive could also serve as a charge nurse, who's responsible for the function of the unit for a set period of time, around 8 to 12 hours. Charge nurses don't have the overall responsibility a manager would have, but they have a set time of responsibility that can help provide more insight into the nurse executive field.
"Serving as a charge nurse helps the nurse figure out, 'Is that something I like?'" Ludwig-Beymer says. "'Do I like delegating? Do I like assessing the situation quickly and figuring out what resources are needed? Or is it not something that I want to do? Would I rather be at the bedside providing direct patient care?'"
3. Participate and Lead
Ludwig-Beymer advises nurses who want to be nurse executives to look for leadership opportunities in nursing, such as joining committees in their organization. As a chief nurse and VP of nursing at a hospital, Ludwig-Beymer says she would encourage nurses to participate in health setting committees to expose them to what a career as a nurse executive would be like and to help them practice leadership skills.
"Every health-care organization, whether it's a hospital or a physician-run clinic, has committees," Ludwig-Beymer says.
Whether it's a quality committee to improve patient care or a patient education committee, like the one Ludwig-Beymer joined as a new graduate, there should be opportunities to hone leadership skills as a nurse in a professional setting.
Committees like these can help nurses practice leading and see whether a nurse executive career is worth pursuing.
4. Continue Your Nursing Education
Because a nurse executive position is one of the highest leadership roles in the nursing field, advanced education is typically a requirement for these positions. According to the BLS, master's degrees are common for medical and health services managers and are sometimes preferred by employers.
If you're an associate's prepared nurse, you must typically earn your RN-to-BSN degree before you can get your master's in nursing.
After you earn a BSN, explore MSN options to meet typical nurse executive education requirements. Look for a school that has a nurse executive concentration or track, which will teach leadership and other skills related to nurse executive positions.
5. Obtain Certification (If You Wish)
There's also certification specific for nurse executives. Nurse executive certification shows you've met certain requirements set forth by a professional board that demonstrates you've completed the required education, licensing and experience to be a nurse leader.
You may be interested in obtaining nurse executive certification to add credentials to your title and potentially stand out to employers. Some nurse executive positions will require specific certification.
You can explore nurse executive certification through the American Organization for Nursing Leadership™, which offers the Certified in Executive Nursing Practice Certification, and the American Nurses Credentialing Center, which offers the Nurse Executive Certification and the Nurse Executive, Advanced Certification.
How to Become a Nurse Executive in Illinois, Indiana and Wisconsin
States don't license nurse executives for most settings. While an RN license is typically required, there aren't state-specific nurse executive licenses, only certifications like the ones listed above.
There may be exceptions for certain positions, however. "If the nurse executive wants to function as a nursing home administrator, those individuals are licensed," Ludwig-Beymer says. The licensure process for that will vary by state.
For more information on what's required to become a nurse executive in each state, visit or contact the following resources:
Illinois Department of Financial and Professional Regulation, Nursing, 1-888-473-4858, The Complete Guide to Nursing in Illinois
Grow Into a Leadership Role as a Nurse Executive
A nurse executive position gives you the opportunity to combine a passion for nursing with a love of leadership and organizational operations. Nurse executives have the potential to transform health care settings and improve patient care in a variety of environments.
"The sky is really the limit for our nurse executive graduates," Ludwig-Beymer says. "They function as nurse managers, nurse directors, vice president for care services and chief nursing officers. We have nurses who have been promoted to be presidents of their organization."
If you're interested in nurse executive leadership, the online nurse executive MSN from Purdue Northwest can help you learn the skills you need to succeed.